VisionAndPsychosis.Net©
In Wetumpka, AL.
The Wayback Machine will show this site is a 14 year investigation of Subliminal Distraction.
If you wish to help in this project, send the Home page URL to your email list and encourage everyone to do the same.
Preventing Subliminal Distraction episodes, mistaken for mental illness, is simple and free.
Copyright 2003 Edit Janruary 15, 2017
Copyright Contact page Demonstration of subliminal sight
If you reached this page from a search engine enter the site here,
or see other cases on the Disappearance and College Suicides pages.
Robert Richard Lepsy
Richard Lepsy was a store manager for Glen's Market in Grayling, Michigan. He went for lunch at 1:30PM October 29, 1969, and vanished leaving a wife, and four children. His car was found unlocked with the keys in the ignition at the Cherry Capitol Airport in Traverse City. A half pack of cigarettes was on the dash.
He called his wife telling her he wouldn't be home for lunch. He said he was taking his company car for a drive to clear his head. He later called the store to say he would not be coming back.
A small amount of cash was reported missing from the store. Witnesses at the airport identified a man fitting his description who bought a ticked for Mexico.
Because of the strange disappearance, and striking similarity in appearance, he has been theorized to have been DB Cooper who hijacked a 727 in Portland Oregon two years later, demanded $200,000 in cash, and 4 parachutes, disembarked the passengers, then ordered the plane to fly to Mexico.
If Lepsy is still alive, he would be 81, in 2017.
There is a tombstone on an empty grave in Grayling put there by family.
The question is why did Lepsy suddenly vanish leaving no clue as to his motive?
___________________
On November 24, 1971 a man identified as Dan Cooper bought a ticked at Portland International Airport in Oregon, and boarded a Northwest Orient Airlines Flight 305 to Seattle, Washington. He hijacked the plane, demanded $200.000 in cash, and four parachutes. Due to a design flaw the rear door of the plane could be opened in flight. He parachuted out near the border of Oregon and Washington. Some of the money has been found in a stream bed, but Cooper, and his parachute were never found.
A recent story reports trace elements, Cerium, Strontium Sulfide, pure (not alloyed) titanium, and spiral 5000 series aluminum chips were found on the tie with an electron microscope. The chemicals were used by Boeing in the production of their Super Sonic Transport Plane. The number of particles, 100,000, suggests to current investigators that Cooper was an engineer working for Boeing. Plant workers, painters, or lathe operators would not have worn ties while at work. Cooper would have to have worked as an engineer, or plant manager who frequently went out on the work floor, in a location where the rare earth chemicals were used and the spiral aluminum chips would have been produced by lathe cutting.
Of course the particles say the tie was in some type aircraft manufacturing situation. But it does not prove Cooper was there. Another possible explanation is that Cooper bought the tie used, or it was given to him by a charity such as the Salvation Army. The Army has taken in gifts of used clothing then distributed them to families experiencing home fires, or those too poor to buy suitable clothing such as recently released prison inmates.
DNA on the tie, believed to be Cooper's, has been used to eliminate other proposed suspects over the years.
Lepsy's family said the black tie was part of his 'uniform' as store manager, and Cooper was wearing loafers during the hijacking, Lepsy's favorite shoes.
There were no computers in1969 to cause Subliminal Distraction. But visual subliminal distraction was discovered and solved by 1968. Did Lepsy have duties as store manager with pen and paper to cause a Subliminal Distraction fugue episode? Did he have activities at home to allow Subliminal Distraction. No one will ever know. Lepsy or someone who worked with him would have to come forward with a description of his work habits to decide that.
Lepsy Cooper comparison.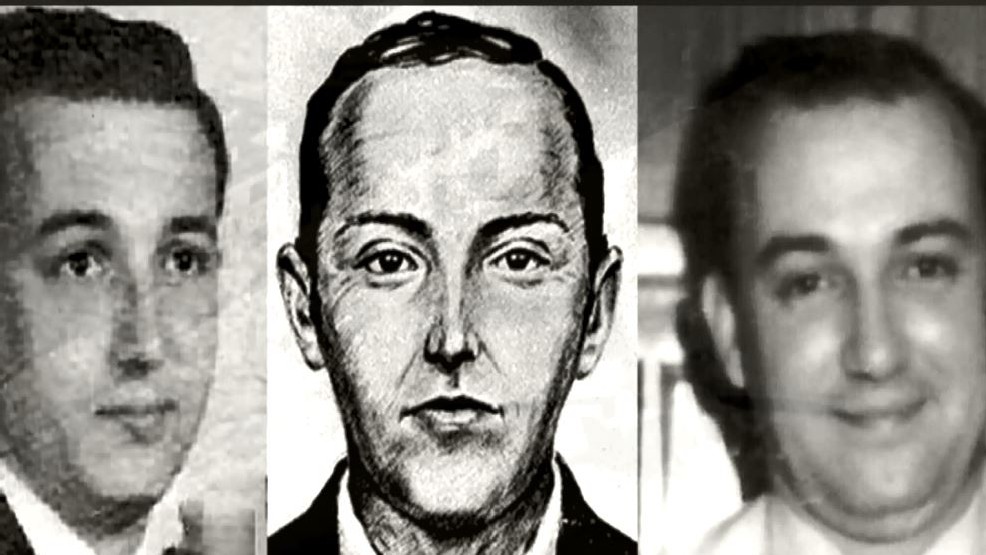 Others suggested to have been DB Cooper are:
Robert Henry Rackstraw, a 72-year-old Vietnam vet living in San Diego was proposed by investigator Thomas Colbert .
Marla Cooper claimed her uncle, a man named Lynn Doyle Cooper, told her he was the hijacker. He died in 1999.