VisionAndPsychosis.Net©
In Wetumpka, AL.
The Wayback Machine will show this site is an investigation of Subliminal Distraction begun in 2002.
If you wish to help in this project, send the Home page URL to your email list and encourage everyone to do the same.
Preventing Subliminal Distraction episodes, mistaken for mental illness, is simple and free.
Copyright 2003 Edit December 7, 2017
Copyright Contact page Demonstration of subliminal sight
If you reached this page from a search engine enter the site here,
or see other cases on the Disappearance and College Suicides pages.
Current Missing Students
This list below is compiled from Google alerts for
"Student Disappearance" and "Missing Student."
If you set your own Google alert, keep the wording simple, and short.
You will find cases from around the world.
A very few of them will have enough information
to show they are a Subliminal Distraction episode.
Some of the missing will be discovered as crimes or accidents.
A large number are found disappearance suicides,
often with no warning or history of depression.
A small number are never found.
Brian Shaffer, Maura Murray, Michael Negrete, Justin Gains are examples.
A very long list of disappearances, disappearance suicides,
and unresolved cases, some more than 100 years old, is here.
A very small number recover, and return in altered mental states.
That last group holds the clue for what is happening.
It's a Subliminal Distraction episode caused by
a little known still-believed-harmless mental break design engineers discovered in business offices in 1964.
The episodes typically happen during or just after a period of intense study
when incorrectly designed study, and computer use areas have the most use.
If this is the case, the study area, with something
that caused detectable movement in peripheral vision,
is still there in the living quarters.
Long hours on social media with detectable movement nearby in peripheral vision is also the the situation of the "mental break causing design mistake"
engineers found and solved fifty years ago.
Examples of home computer use areas are here.
Erin Henry
Body Found - Ruled Suicide Dec 12
She vanished with no explanation after her roommate heard her in her room late at night.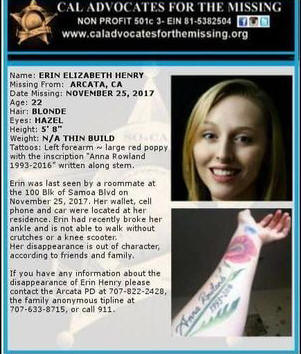 Her roommate last saw her at 9 or 10pm the night of Nov. 25th in her residence in the 100 Block of Samoa Blvd, and heard her in her room about 11pm.
Erin has a broken ankle and cannot walk without crutches or assistance.
Her wallet, cell, and car were left behind. A "knee scooter" is missing.
Those elements of her story point to a Subliminal Distraction sudden onset fugue episode.
Concrete evidence would be her roommate reporting that her study or computer use engaged the "special circumstances" for visual subliminal distraction. Home computer examples.

Was there a mirror or TV in peripheral vision where she studied?
A story from the Eureka California Times-Standard says that her body was found after 9 a.m on the east side of U.S. Highway 101 near Elephant Rock located just south of the Westhaven Drive exit. Early indications are that she had traveled about 13 miles to the site, and jumped shortly after she vanished. Additional information published Dec 12 says the death was a suicide.
Diogo Penalva
Officially missing he was seen to jump from a cruise ship.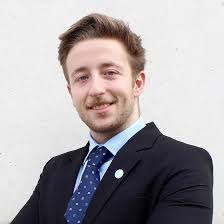 Seen on video to climb the rail and jump into the Baltic Sea from the Silja Serenade, the 21 year old Portuguese finance and accounting major at Lisbon's ISCTE Business School was taking part in the Erasmus program at Finland's Tallin University of Technology.
Friends are reported to believe he was involved in other recent "incidents." But the neither the nature of the incidents nor his involvement were mentioned in news accounts.
The search area is reported as 400 sq kilometers of freezing ocean. Searches have been scaled back from the original effort to find him.
Holly Clacy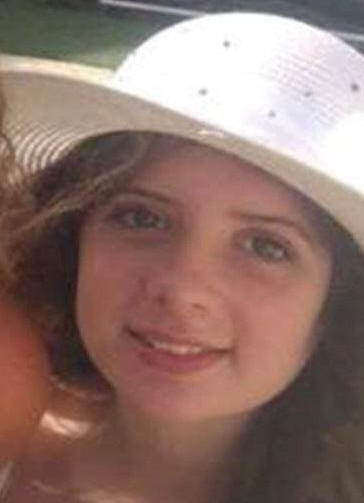 Holly left William de Ferrers school wearing her uniform 4pm on Monday.
Later that day her body was discovered in a woodland in Chelmsford, Essex.
The police statement is that the death is not being treated as suspicious.
That essentially says this was a suicide. An accident or foul play would have been mentioned.
Comments from teachers in The Sun story do not mention psychiatric complaints.
That suggests this was a sudden onset visual subliminal distraction event.
Was she active on social media? Where did she use her computer or phone?
If you can supply information use the Contact page.
Read the Student Suicide email message for explanation. Here
Stephen Cullinan
Computer Science Major
Recovered after being seen on CCTV at a city center shopping mall in Dublin Tuesday Nov. 28.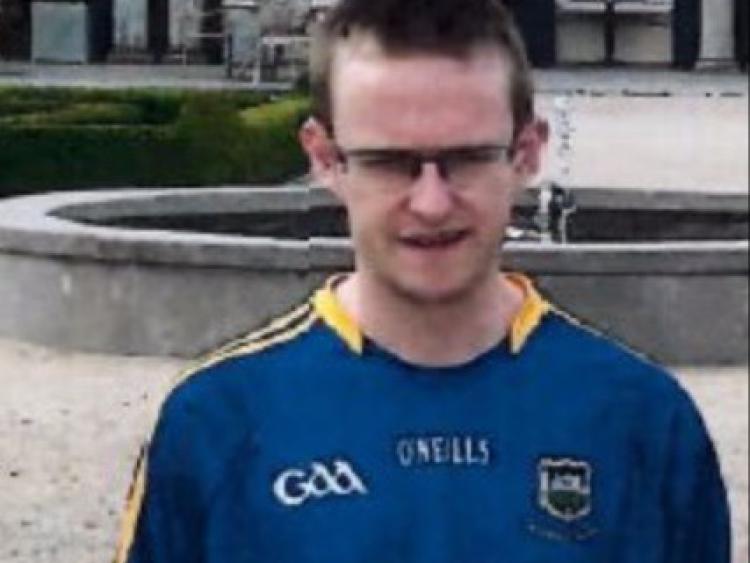 He left his living quarters at the University of Limerick Nov 2, and was sighted on St Stephen's Green in Dublin.
He requires medication that he did not take with him.
The Gardai at Henry Street Garda station in Limerick are supervising the search.
The last contact was a phone call to his mother Nov 2nd.
His phone is now turned off.
Siddharth Soni
(No picture available.)
A first year Computer Application (BCA) student at a private college , the 18-year-old's body was found in a canal under the Thegra bridge.
He had left for school Thursday morning, October 26th. When he did not return his father filed a report at the Borekheda police station
Police found his scooter near the bridge.
There was no suicide note but police believe he jumped into the canal.
(There are a number of people with the same name in Google searches.)
Adam Lindley
Missing since 10/14/17 Body found 10/24/17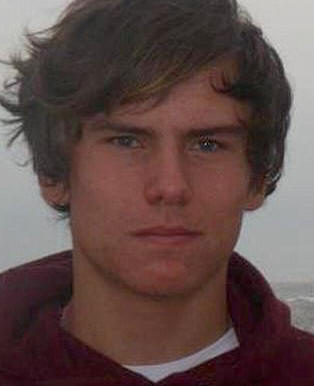 Southampton-based 23 year old Lindley vanished after he rode away from his residence hall on his bicycle.
His body has been found in the Lyndhurst area of the New Forest, Hampshire. Typical statements from Hampshire Constabulary were "Officers searching for missing Southampton student have discovered a body."
The sudden event with no warning perceived by friends says it was most likely a sudden onset Subliminal Distraction severe depressive episode.
Did you know Adam Lindley? Can you supply information about his study and computer use habits and a sketch of locations where he studied? Was he a video game player? Contact
_
_
_
Sai Prajwala
Found in Tirupati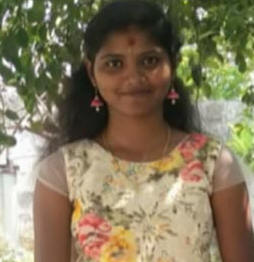 After she was reported to have attempted suicide, Sia vanished for a few days.
She had taken a train from Secunderabad Railway Station to Tirupati with no explanation.
Before leaving Hyderabad Sai had written a letter to the state government demanding all Narayana Institutions be closed because administrations were harassing students about grades.
That suicide attempt plus the belief of persecution suggests she had a Subliminal Distraction episode causing the disappearance.
She has been recovered alive. (The Hans India)
_
_
_

Nathan Ward Kocmond
Concussion six weeks ago blamed for depression and missing student.
Body found apparent suicide, 10/14/17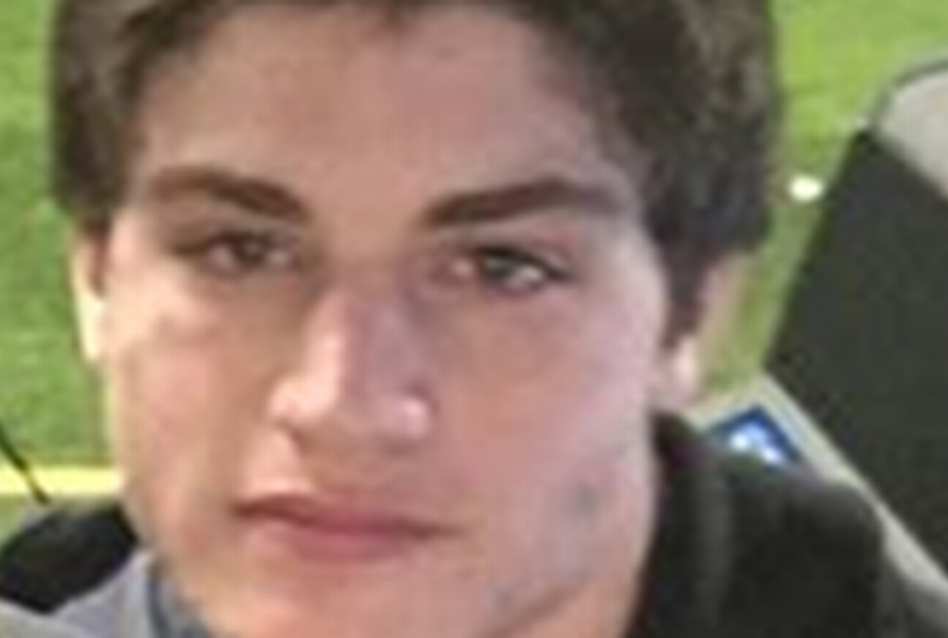 A 16 Year old Boy Scout vanished after having headaches and depression believed caused by a concussion six weeks earlier.
He left home to visit friends before a Scout meeting.
He didn't reach either destination.
His social media accounts had been deleted.
There was little taken when he left driving a silver 2011 Honda CRV,
with North Carolina tag PAH-3753
I cannot recall a case where depression was an outcome of a concussion.
A hiker discovered his body in Uwharrie National Forest, Montgomery County 60 miles northeast of Charlotte.
_
_
_
_
Najeeb Ahmad
Missing one year from Jawaharlal Nehru University October 16, 2016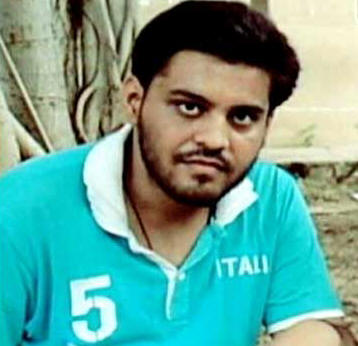 Biotechnology grad student Najeeb got into a fight with other students and left. Police say they discovered he hired a three wheeler to leave.
He had been in school only since August 1st.
Akhil Bharatiya Vidyarthi Parishad (ABVP) group students denied knowledge of the disappearance after Najeeb scuffled with them.
His parents have been unable to get effective cooperation in searches for him.
The sudden violent confrontation with the disappearance suggests this was a Subliminal Distraction disappearance.
_
_
Ethan Lee Matthews
Seventeen year old missing a week dived into path of truck.
Did you know Ethan?
Can you supply information on his study and computer use habits?
Use the Contact page.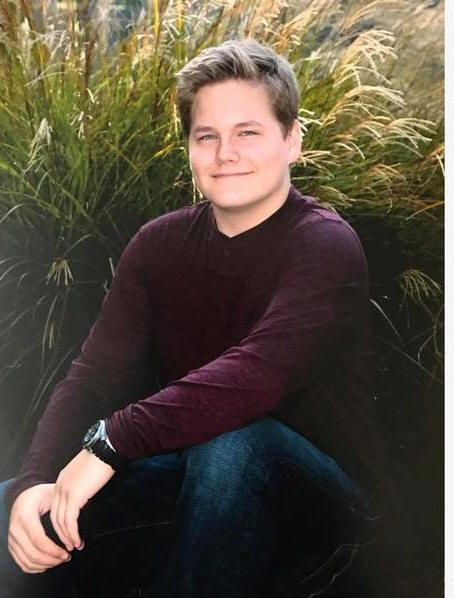 Missing for a few days, the police report from the truck driver Oct. 2 said that at the last minute as the truck was passing him walking along the right side of S.R. 17 just south of its intersection with S.R. 328 in Martin, he suddenly, at the last minute, dove into the path of the truck.
Although bizarre, this is just one of many stories of sudden student disappearance and suicide.
There have been recoveries alive, and students have recovered, returned, in altered mental states.
_
_
Michael Nickelotte
Human remains found Friday 29th near Baton Rouge may be Michael.
His family has confirmed ID.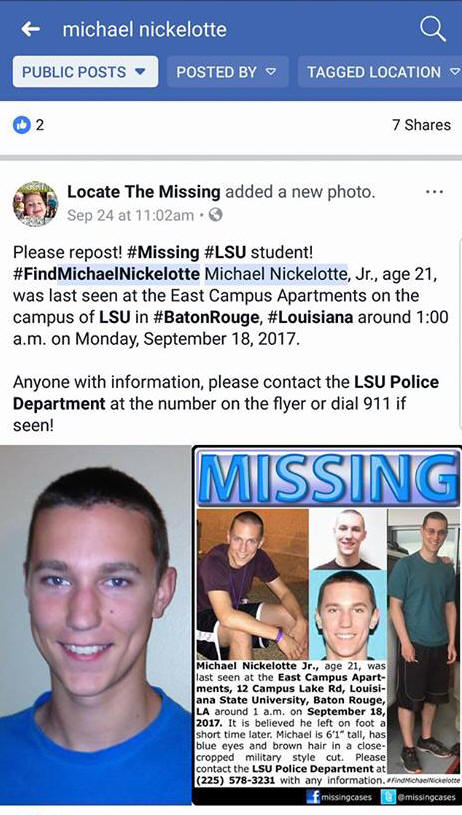 Michael was heard opening his room door then opening the dorm suite door about 1 AM September 18, 2017. He has not been seen since.
His ID, car keys, wallet, cell phone, and computer were left behind. His car was parked near the dorm building. Only a green mountain bike was missing.
This follows the typical pattern for a Subliminal Distraction episode disappearance.
This is not the first such disappearance from LSU. I wrote the school when Leslie Buford vanished after a dinner in New Orleans. Buford was found within three days wandering the French Quarter but news reports said he was too disturbed to return to LSU.
LSU apparently has done nothing to warn students about visual subliminal distraction.
In most cases a student having a light episode will spontaneously recover, and return. But that recovery will depend on the severity of the episode.
Ahmad Arain emailed home from Mexico six weeks after he vanished after leaving a bus on his way to a meeting at UCLA. He had walked to Mexico from Watts.
Family Facebook In Loving Memory
_
_
Nicholas Pratico
Body found October 23. 2017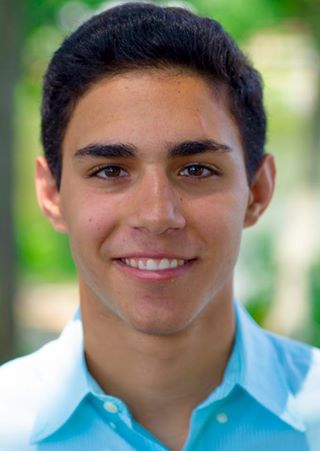 Affiliated with 12 New Jersey newspapers a website reports that Nick Pratico vanished with no warning just minutes after he was seen functioning normally on the Junior College surveillance video.
He was last seen at 3 PM September 20, at Mercer County Community College.
There was no access to a vehicle.
Additional information recently posted suggest he may have gone to Times Square in New York.
Police departments in New Jersey, and New York have been alerted.
A new site posted by a private investigator asks for information.
_
_
Ishrak Ahmed Fahim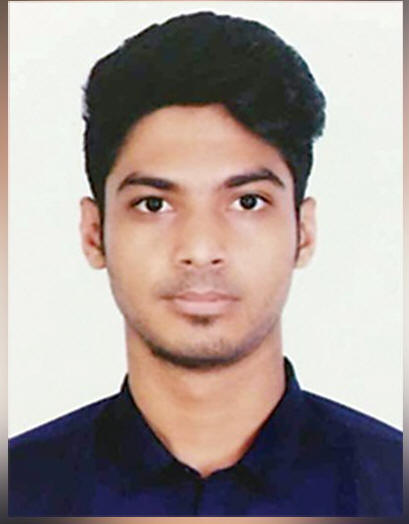 A 20 year old McGill student in Canada, he vanished while out with friends on vacation back at home in Bangladesh.
A report in the Dhaka Tribune says he started walking toward home, turned around and went back to Star Kabab. He then walked into a camera blind spot, and did not return. That location was minutes away from his residence.
At home since June, he vanished August 26.
That time period, two months, is too long for a problem with his study area at school to have caused a Subliminal Distraction episode.
But he might have created an activity such as video game play to create exposure there.
On September 28, 2017 he is still reported missing.
_
_
_
Majid Nahes Al Otaibi
He is known to have boarded a flight from Nashville to Chicago.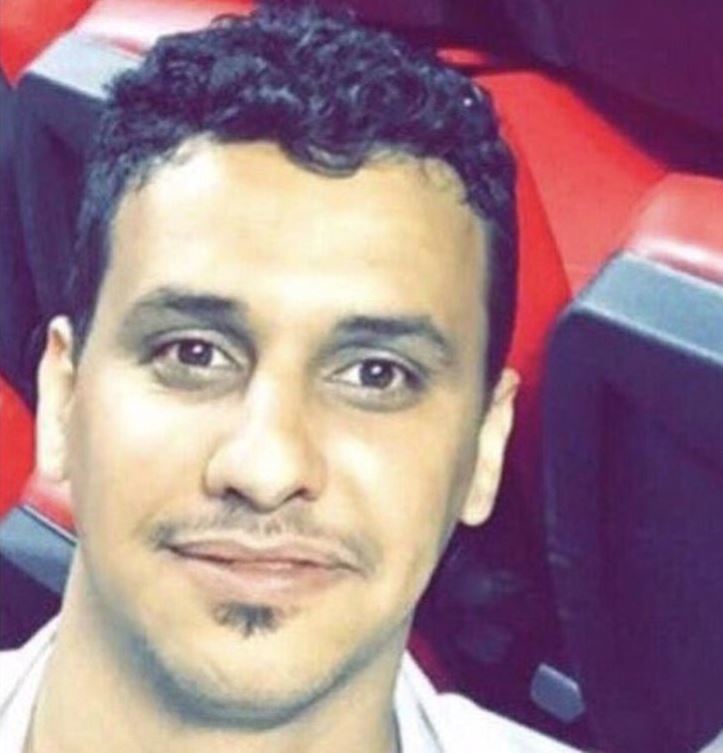 West Kentucky University electrical engineering student Al Otaibi should have boarded a flight in Chicago to Abu Dhabi August 19.
He vanished. He did not board any plane from O'Hare Airport.
_

_
_
Sadekul Islam Milon
Found along a road after missing two months.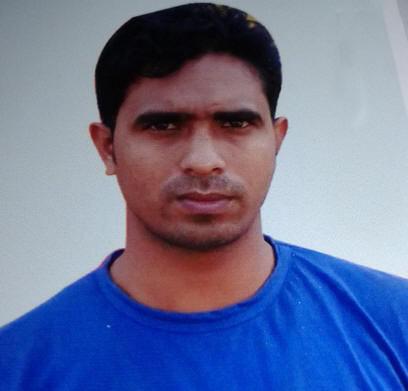 Jagannath University student Sadekul Islam Milon was found with missing memory about what happened to him.
Although denied by authorities the claim is that he was picked up from his home by police.
Classmates are making statements about his condition and lack of memory.
His missing memory is one factor to suggest he is a Subliminal Distraction victim.
The story about abduction may be a confabulation.
There is no report of anyone seeing him dropped blindfolded along the road.
Rupjyoti Das
Information Technology major, Assam University, he vanished May 16, 2017.
Did you know him?
Can you supply information about where and how he studied,
and used his computer?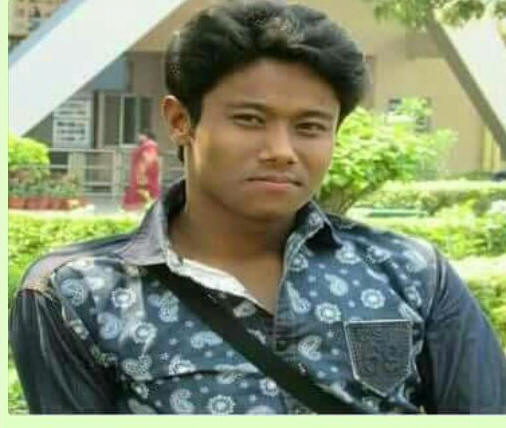 Although several sites carried the story there is little information about the disappearance.
He lived in a rented house. His possessions, ATM card, laptop, cell, and money were locked inside.
The last report was that he was having a drink at a shop near his house in Silchar.
His last exam was on May 16, and his plans were to return home on May 22.
When his parents arrived to take him home they were unable to get into the house.
If he is a Subliminal Distraction fugue victim he could be anywhere he could travel without papers.
There are cases of these missing students being recovered when they tried to cross country borders without a passport.
_
Scroll Down For Recent Cases
_
_
Manjunath Siddanna Churi
Computer engineering grad disappears in Germany.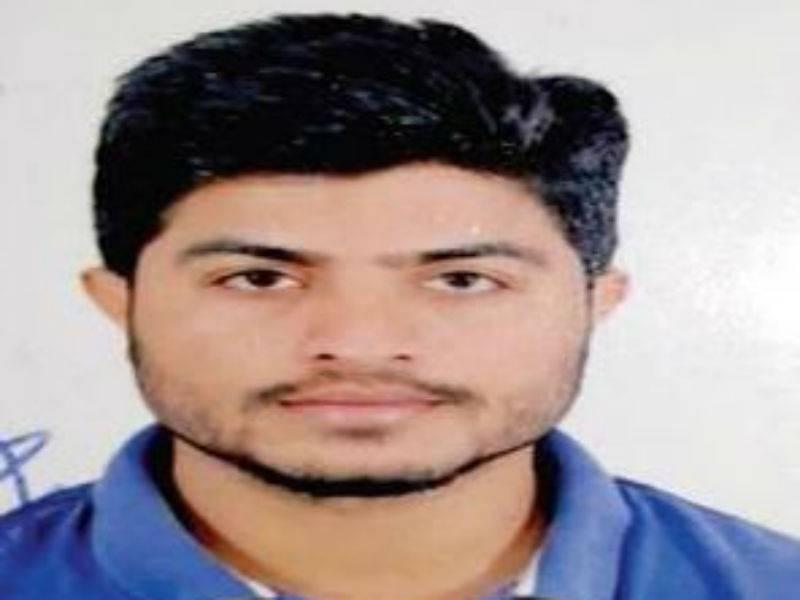 Although he left a note it is written in Indian language. Police have not translated it.
He graduated from Basaveshwara College of Engineering in Bagalkot, then went to Germany for his Masters degree in Software.
He called his mother twice each day from Germany but last talked to her Saturday, June 18.
She received a call from the Hamburg Indian embassy 10 pm Monday informing her of his disappearance.
David Thompson
Has been found in Mexico.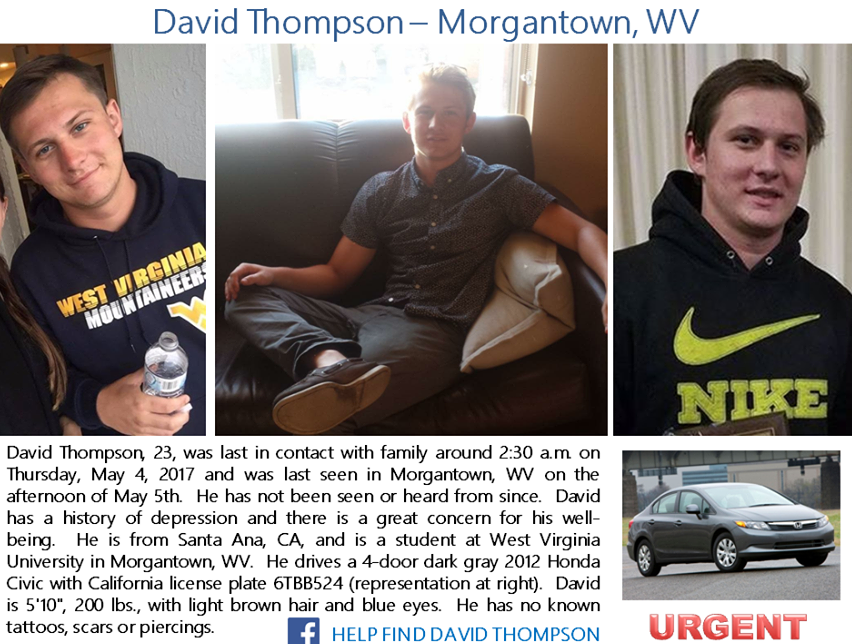 WDTV Morgantown
Twenty three year old West Virginia University student
Missing since May 5, his mother cites trouble with depression
He was driving a four-door, dark gray, 2012 Honda Civic California tag 6TBB524.
The flyer is from 'Missing Pieces.'
That site reports his phone has been found in another county.
Louis Gonick
UBC student got out of a cab at Stanley Park Sunday, April 16 and vanished.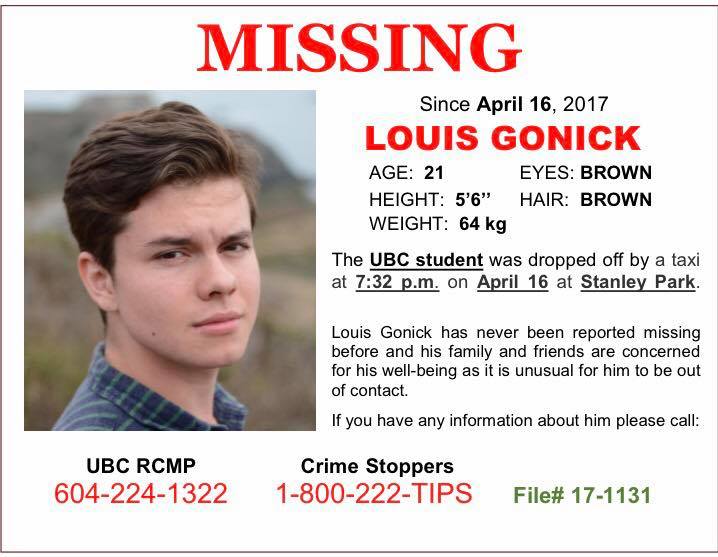 The story that he simply got out of a cab and vanished suggests this is a Subliminal Distraction fugue episode.
I left a message on his Facebook page seeking contact with his friends.
The last post on the "Find Louis" site is dated May 6, at 21 days missing.
The last post on his personal Facebook page is dated April 13th.
He is an Ecudorian exchange student. Active in several Internet causes he would have been a heavy computer user.
The emergency turn off where he had the cab drop him is near the Lion's Gate Bridge.
One of the expressed concerns in news accounts is that he walked onto the bridge and jumped.
_
__
_
Michael Doherty
One week home from Duke, 20 year old junior mechanical engineering major, took a path through a wooded area
while walking about one mile home in the rain from a late-night party Saturday on Phyllis Street in Franklin.
His body has been found. The coroner stated he died of exposure.
He had abandoned his shoes, and shirt.
A Subliminal Distraction episode sometimes causes sensations of insects crawling on the skin.
Discarding clothing in inappropriate temperature conditions is often seen.
But without evidence that he created the "mental break causing design mistake" where he studied nothing can be concluded.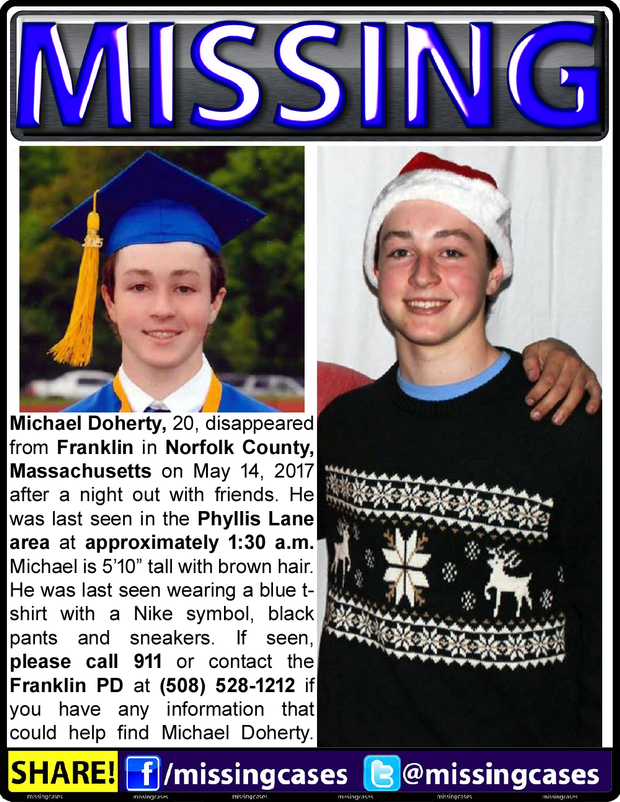 Friends said he appeared sober and coherent when he left walking. But he may have been drinking at the private party.
Searchers found his shirt, and one shoe, then found his other shoe beside a brook.
Scent dogs followed his trail through the woods to the end of Oak Street Extension in Franklin
News reports are that a body was found Saturday May 20. No other information is available.
_
_
_
_
_
__
Aalaap Narasipura
Cornell Univerversity engineering student Narasipura was last seen in Sage Hall on Cornell's campus Wednesday morning.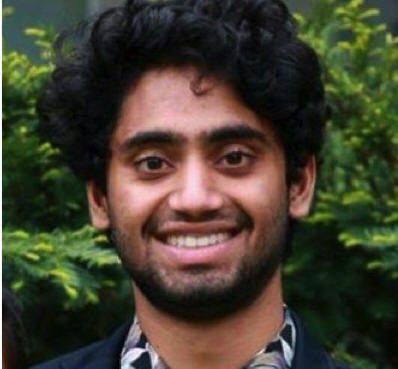 His body was found in Fall Creek Friday morning.
Police statements do not suspect foul play.
This is the fourth student disappearance reported in my Google alerts this month
Sandeep Vishwakarma
India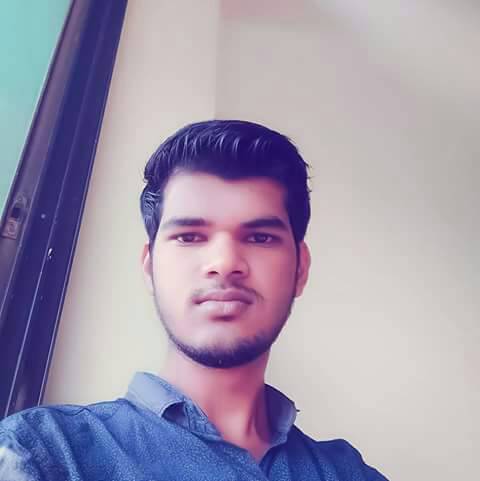 Third year Computer Science major at the Rayeshwar Institute of Engineering and Information Technology at Shiroda, he left home Saturday going to an exam.
He did not show up for the exam.
When he did not return home his parents filed a police report.
His belongings, shoulder bag, ID card, "Hall Ticket," and "mobile phone" were found abandoned on the Borim Bridge.
Ponda Police suspect he jumped from the bridge.
"PSI Nitin Halarnkar js investigating."
The report is from the Navhind Times web site.
Claimed 56,000 daily circulation English language newspaper in Goa since 1963.
The Goan, and Digital Goa (Panaji based media house) also carried the story.
_
_
_

Hannah Webster
England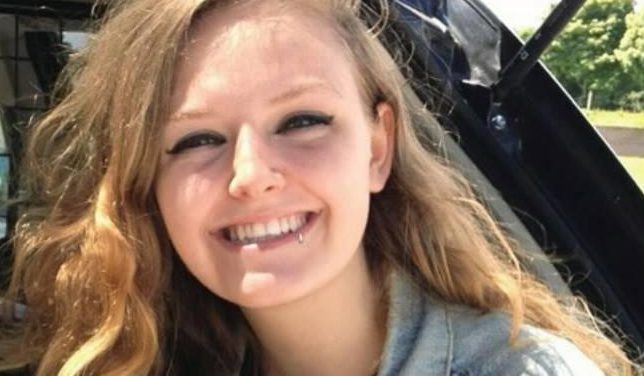 Essex University Finance & Banking major she was found dead in woodland near a cycle path in Colchester.
She vanished Thursday May 11th.
Police found her body at 2.10pm Friday May 12th.
Police stated the death is not suspicious.
That leaves accident or suicide.
She was off the bike path in the woods.
Dakota James
Disappeared in January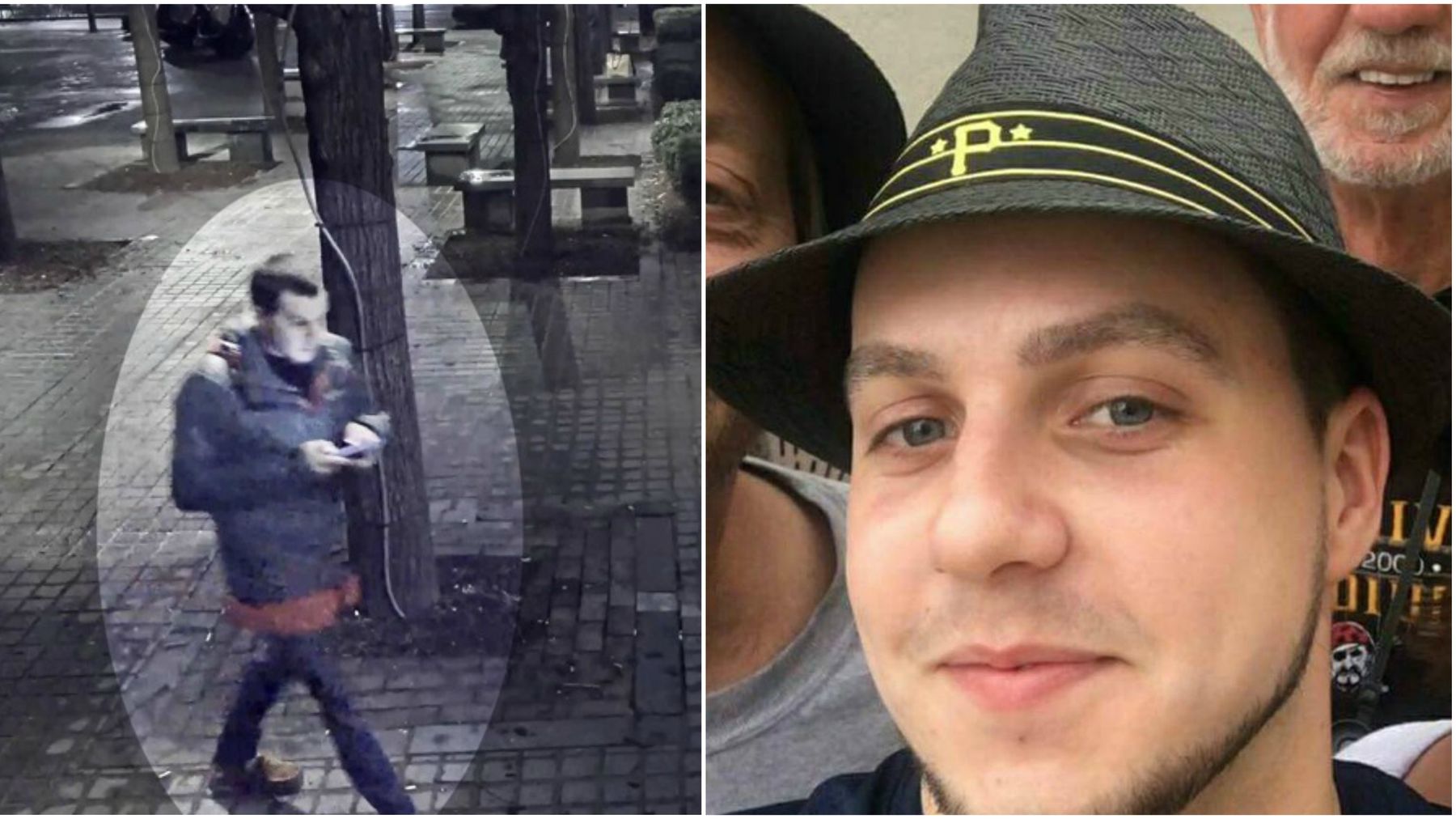 James vanished while walking home over a familiar path he had taken many times before.
His family has disputed the coroner's evaluation that he died by accidental drowning.
There are other cases where the student vanished while crossing a bridge,
although there had been no history of depression, or mental illness.
In several cases the student is known, or seen on video to have been alone.
In this case James can be seen on video texting on his phone, walking alone.
His body was found down stream by a woman walking her dog.
If he was able to text while walking he could not have been intoxicated enough to accidentally get in the river.
Although it has been 4 months friends, or roommates could supply information about his study or computer use habits.
Cited as Gay, he might have associates who were in his rooms to tell where his computer was located.
Noor "Nora" Alzaybak
High school freshman
The latest report on Monday May 29th is that she has been found and will travel back to Alabama.
She came home on Thursday afternoon, but vanished few hours later.
The information that would qualify this disappearance as a Subliminal Distraction episode is missing.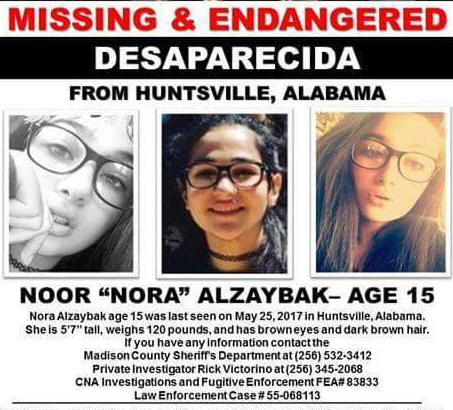 "She came to my room and took her glasses," Sharazad Alzaybak said at Sunday's press conference.
"She seemed normal. Like 15 minutes later, my husband came home, and she's missing."
One report states her phone is going to voice mail.
Early reports do not mention any distress as the cause of her disappearance.
That sudden disappearance is the only clue that might qualify this case as a Subliminal Distraction disappearance.
Sometimes parents withhold information because of embarrassment, or fear of group disparagement.
The first thought would normally be that someone picked her up by her arrangement.