VisionAndPsychosis.Net©
In Wetumpka, AL.
The Wayback Machine will show this site is an investigation of Subliminal Distraction begun in 2002.
If you wish to help in this project, send the Home page URL to your email list and encourage everyone to do the same.
Preventing Subliminal Distraction episodes, mistaken for mental illness, is simple and free.
Copyright 2003 Edit May 20, 2017
Copyright Contact page Demonstration of subliminal sight
If you reached this page from a search engine enter the site here,
or see other cases on the Disappearance and College Suicides pages.
Current Missing College Students
This list is compiled from Google alerts for "Student Disappearance" and "Missing Student."
If you set your own Google alert, keep the wording simple, and short.
You will find cases from around the world.
A very few of them will have enough information to show they are a Subliminal Distraction episode.
Of course some of them will be found to have been crime or accident victims.
A large number are found disappearance suicides, often with no warning or history of depression.
A small number are never found.
Brian Shaffer, Maura Murray, Michael Negrete, Justin Gains are examples.
But a very small number recover and return in altered mental states.
That last group holds the clue for what is happening.
David Thompson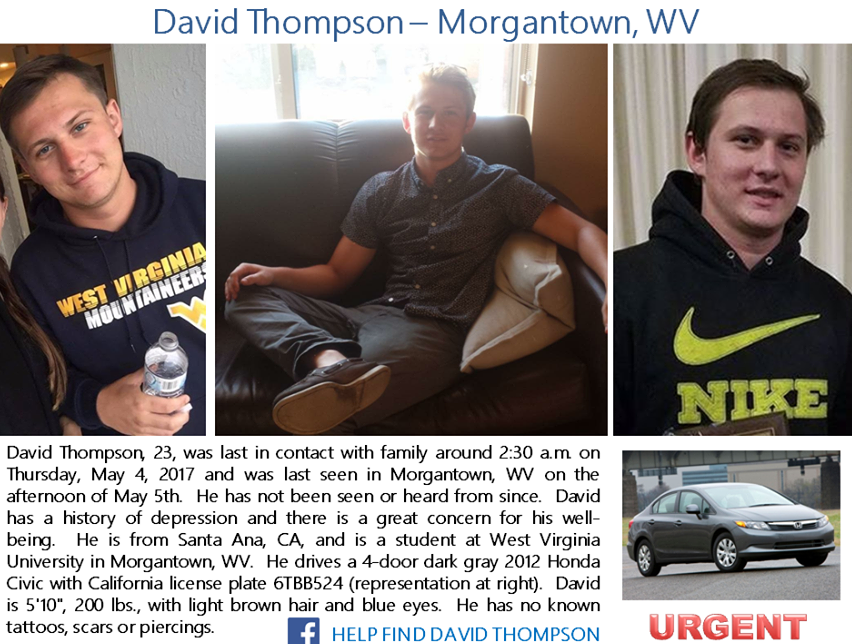 WDTV Morgantown
Twenty three year old West Virginia University student
Missing since May 5, his mother cites trouble with depression
He was driving a four-door, dark gray, 2012 Honda Civic California tag 6TBB524.
The flyer is from 'Missing Pieces.'
That site reports his phone has been found in another county.
Louis Gonick
UBC student got out of a cab at Stanley Park April 16 and vanished.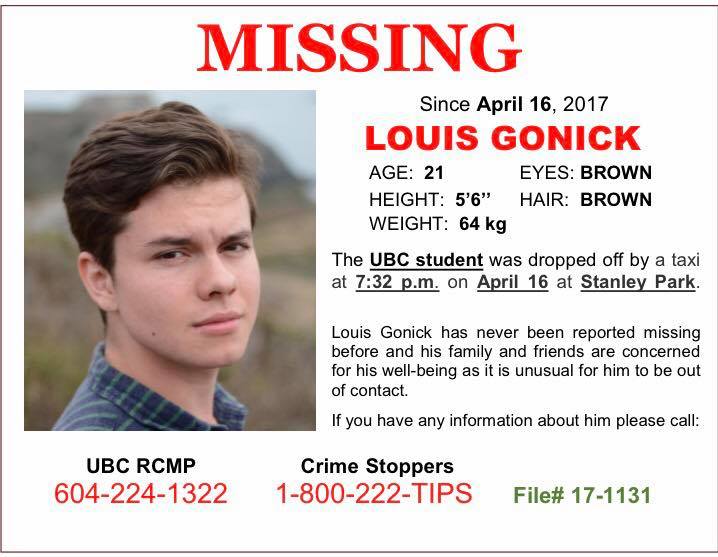 The story that he simply got out of a cab and vanished suggests this is a Subliminal Distraction fugue episode.
A message was left on his Facebook page.
The last post on the site is dated May 6, at 21 days missing.
_
-
-
-
-
-
-
-
Michael Doherty
One week home from Duke, 20 year old junior mechanical engineering major, took a path through a wooded area
while walking about one mile home in the rain from a late-night party Saturday on Phyllis Street in Franklin.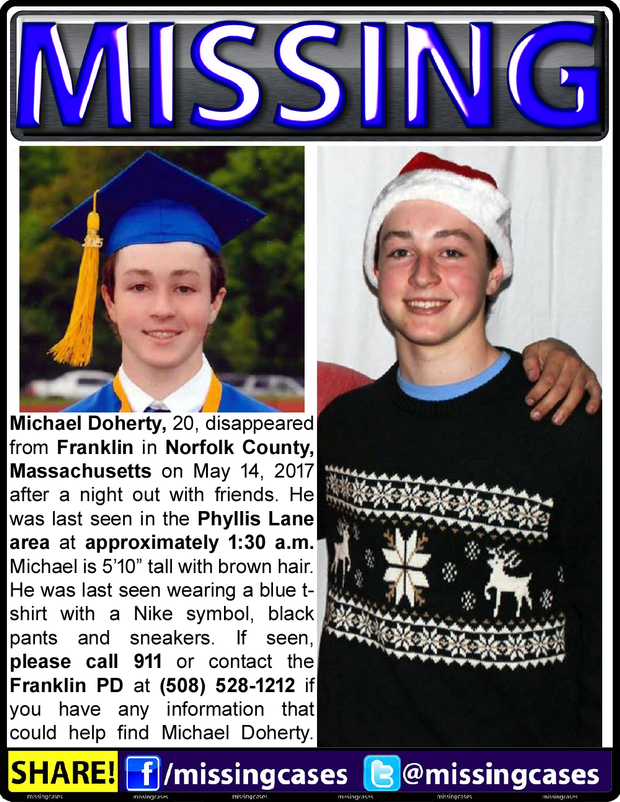 Friends said he appeared sober and coherent when he left walking. But he may have been drinking at the private party.
Searchers found his shirt, and one shoe, then found his other shoe beside a brook.
Scent dogs followed his trail through the woods to the end of Oak Street Extension in Franklin
News reports are that a body was found Saturday May 20. No other information is available.
_
_
_
_
_
__
_
_
Aalaap Narasipura
Cornell Univerversity engineering student Narasipura was last seen in Sage Hall on Cornell's campus Wednesday morning.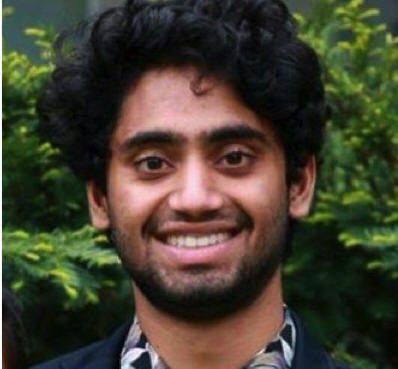 His body was found in Fall Creek Friday morning.
Police statements do not suspect foul play.
This is the fourth student disappearance reported in my Google alerts this month